Ryan Enright, harpsichord and organ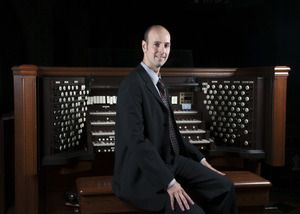 A native of Montreal, Quebec, Ryan Enright began studying the organ at age 13 and pursued degrees in the instrument with John Grew and William Porter at McGill University as well as the Eastman School of Music, receiving the Doctor of Musical Arts under William Porter. He has taken first prizes at the Canadian Music Competition in 1997, the Quebec Organ Competition in 2004, and the National Organ Playing Competition of the Royal Canadian College of Organists, 2007. Ryan has also competed in the Dublin International Organ Competition, the Kotka Competition (Finland), and, recently, the Canadian International Organ Competition 2011, Montreal, where he was one of 16 international finalists and the only Canadian.
Enright's interest in the organ art has taken him to organ academies in Europe, such as those in the Netherlands (Haarlem) and Smarano (northern Italy), as well as the McGill Summer Organ Academy (Montreal). In 2005 he was awarded a trip to France to play on famous historic organs and to meet eminent French organists.
Noted for his improvising in the liturgy and in concert, Ryan's style is influenced by French Impressionist harmony, baroque counterpoint, and a North American je-ne-sais-quoi. Ryan is organist of St. John's Lutheran Church in Sacramento and accompanist for the Sacramento Choral Society & Orchestra, the CSUS choruses, the Schola Cantorum of Sacred Heart Church, as well as being a free-range musician. A favorite interest away from the loft is exploring California's diverse wilderness areas.