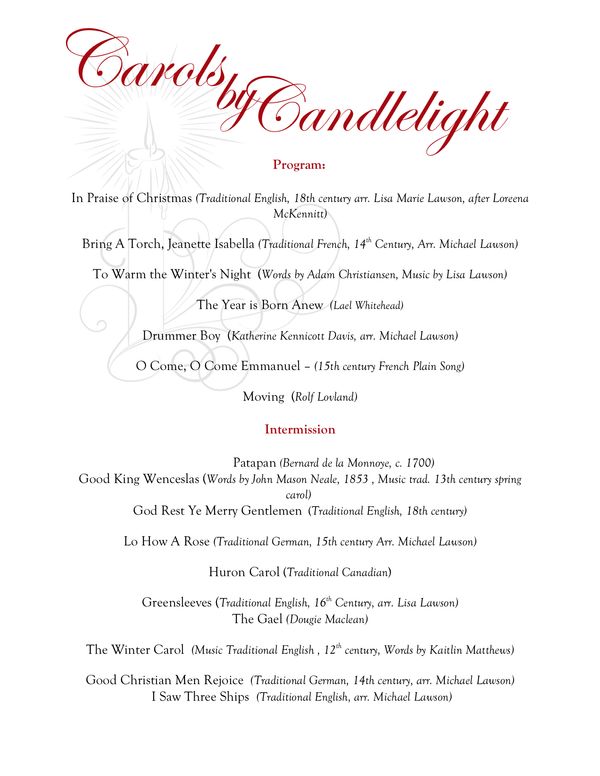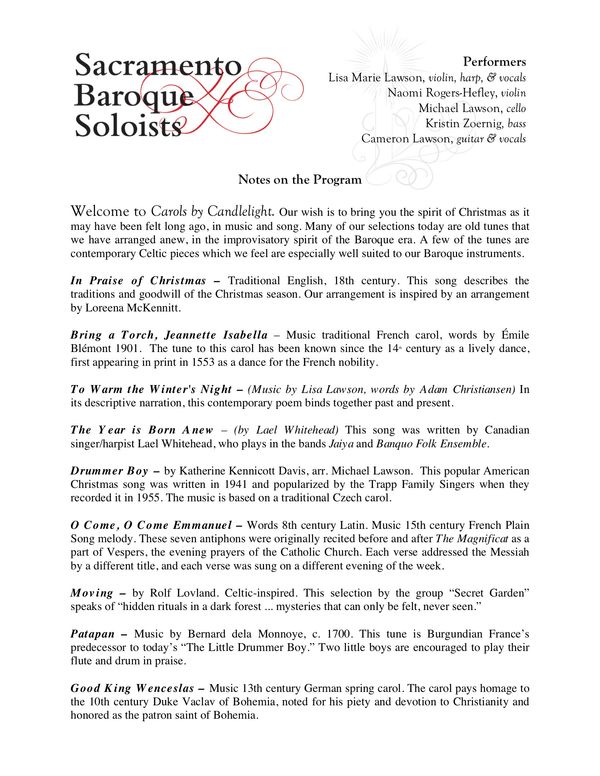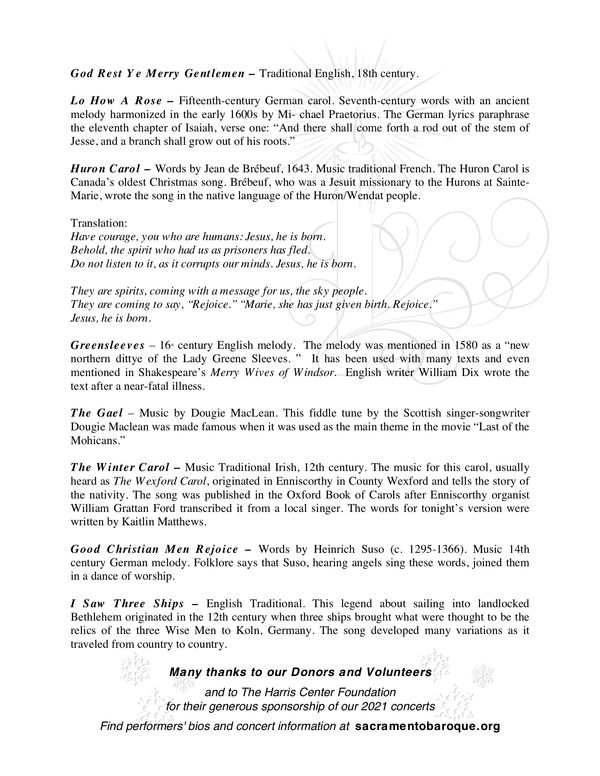 Concerto's Return
October 1, 2, & 3, 2021
St. Paul's Episcopal Church
Harris Center for the Arts
The Program
Concerto Grosso Op. 6 No. 7                                                                                    Arcangelo Corelli (1653-1713)
            Vivace-Allegro-Adagio 
            Allegro
            Andante Largo
            Allegro
            Vivace
Laura Jeannin and Lisa Marie Lawson, Violin Concertino
Michael Lawson, Cello Concertino
Bassoon Concerto in G min.                                                                            Antonín Reichenauer (c. 1694-1730)
            Allegro  
            Adagio
            Allegro
David Wells, Bassoon solo
Violin for Two Violins and Cello in D min, RV 565                                                      Antonio Vivaldi (1678-1741)                                                                       
            Allegro
            Adagio e Spiccato
            Allegro
            Largo e Spiccato
            Allegro
Lisa Marie Lawson and Laura Jeannin, Violin Concertino
Michael Lawson, Cello Concertino
Intermission
Sinfonia No. 2                                                                                                           Leonora Duarte (1610-1678?)
                                                                                                                                                     
Concerto for Two Flutes, TWV 53:D1                                                                Georg Phillip Telemann (1681-1767)
            Largo 
            Vitement
            Largo
            Vivace
Cathie Apple and Alice Lenaghan, Traverso soloists
Cello Concerto in A min., RV 420                                                                                                         A. Vivaldi
            Andante
            Adagio
            Allegro
Concerto for Strings in G major "Alla Rustica," RV 151                                                                            A. Vivaldi 
            Presto
            Adagio
            Allegro
The Performers
Lisa Marie Lawson, violin and Music Director
Cathie Apple and Alice Lenaghan, traverso
Laura Jeannin, Naomi Rogers-Hefley, Shannon Houston, violins
Clio Tilton and Katherine Hagan, violas
Michael Lawson, cello
Kristin Zoernig, bass
David Wells, bassoon
Faythe Vollrath, harpsichord and organ
Performer bios may be found on our website sacramentobaroque.org
Friday evening's Live Stream provided by Lawson Productions LLC
"Concerto's Return"
Notes on the Program
Arcangelo Corelli (1653-1713) - Concerto Grosso in G minor Op. 6 No. 7
Roger North spoke of Corelli's works, "wch are to ye musitians like ye bread of life." Corelli was the founder of a Roman school whose influence touched practically every violinist in Europe. He had widespread fame as a composer and was the teacher of Geminiani, Locatelli, Veracini, and Somis, who taught Leclair. His works were published repeatedly throughout Europe and were seen as models of style for their purity and poise. Corelli was a favorite in Roman society, where his lifelong patron was Cardinal Pietro Ottoboni. His importance has sustained to the present, both as a violinist who laid a firm foundation for all future development of violin technique, and as a composer who advanced the progress of composition. He chose to publish only a few select opuses of compositions, including solo sonatas, trio sonatas, and concerti grossi, which he only allowed to be published after his death. His compositions were characterized by a conciseness and clarity of thought and form, and by a dignity of style. Corelli's concerti grossi resemble trio sonatas with orchestral reinforcement and echo effects. In many ways the concerto grosso was the precursor of the solo concerto, as it was the opposition of a solo trio against an orchestra. The Concerto Grosso we hear tonight is in chamber sonata form, with alternating dance-like movements.
Antonín Reichenauer (c. 1694-1730) - Bassoon Concerto in G minor
Antonín Reichenauer worked as a keyboard player and composer at the court of Count Wenzel von Morzin in Prague from around 1723 until shortly before his death. Reichenauer's compositional style was highly influenced by that of Antonio Vivaldi, who Morzin also employed from afar during this period as his "Maestro di musica in Italia" ("Master of music in Italy"). Vivaldi seems to have been mainly charged with writing music for Morzin's highly regarded court orchestra, including the now famous Le quattro staggioni (The Four Seasons) and at least one bassoon concerto (G Minor, RV 496). That concerto by Vivaldi and the one on today's program—also in G minor—were likely written with the virtuoso bassoonist Anton Möser in mind. Even within an ensemble lauded for its skill, Möser must have stood out, judging by the fact that in 1724 his salary was second only to that of the orchestra's concertmaster, Melchior Hlava. Indeed, Reichenauer mirrors Vivaldi's virtuosic yet idiomatic writing for the bassoon in this concerto, along with the Venetian's overarching concerto forms. Yet, it is not a mere Vivaldian knockoff—it contains many interesting melodic and harmonic figures that let Reichenauer's own voice shine through. In addition to this G Minor concerto, Reichenauer wrote two other solo bassoon concerti, two oboe/bassoon concerti grossi, and numerous sacred works with parts for obbligato bassoon. (David Wells)
Antonio Vivaldi (1678 – 1741) - Concerto in D minor, RV 565 for two violins and cello, Cello Concerto in A minor, Concerto for Strings "Alla Rustica" RV 151
Antonio Vivaldi was born in Venice, the son of a professional violinist at St. Mark's. He held the position of violin teacher at the Ospedale della Pieta, a girl's orphanage in Venice, from 1703 to 1738, also taking on the post of "maestro de concerti". In this position he wrote over 400 concertos to be performed by his students at weekly Sunday concerts. By 1709 his concertos were famous throughout Europe and Vivaldi soon spent much of his time traveling. He was a highly virtuostic violinist, applying this virtuosity to his concertos which heavily influenced violin technique as well as the concerto form. Until this point concertos had relied on counterpoint and polyphony. Vivaldi brought a dramatic simplicity to the form, creating a three-movement structure which led to the classical concerto. Vivaldi's concertos usually follow a three movement pattern, beginning with an Allegro, followed by a slow movement in the dominant key, ending with another Allegro. The fast movements follow ritornello form. Simple techniques such as scale passages, arpeggios, and broken thirds achieve dramatic effects, with Vivaldi's powerful and vital rhythmic sense driving the music and continually surprising the audience. He was the first composer to give the slow movement, with its slow cantabile melody, equal importance to the faster movements. Vivaldi wrote the first bona fide cello concertos, 27 to be precise.
The Cello Concerto in A minor RV 420 is an important early contribution to the cello repertoire, written as early as 1708. He follows the usual three-movement form, with the unusual exception that the solo cello begins the concerto with a first movement Andante.
Vivaldi's Concerto "Alla Rustica" is the only concerto on tonight's program written for ripieno strings, meaning there is no soloist. The Concerto for Strings "alla rustica", RV 151, begins with a Presto movement in which bounding rhythms in 9/8 time evoke a country dance. The middle Adagio leads thoughtfully into the final Allegro, again stompingly reminiscent of a country dance.
Leonora Duarte (1610 - 1678?) - Sinfonia No. 2 in C major
Of all of the composers on today's program, Leonora Duarte is perhaps the most fascinating, not only because she was a woman composing music in the Baroque era, but also because she belonged to a wealthy Portugese-Jewish family who had relocated to Antwerp to escape the Inquisition. Her family were Converso, which means they outwardly acted as Catholics while secretly maintaining their Jewish faith and practices. Professionally, Duarte's father, Gaspar, was a successful diamond and jewelry merchant. The family were also great patrons of the arts. Their home was well-known gathering place for musical performances by the family and their guests, whom included such important personages as Constantijn Huygens, the keyboard -making Ruckers family, and the artist Vermeer. Leonora was a particularly fine singer: her friend, British writer Margaret Cavendish, wrote to her, "your Harmonious Voice … Invites and Draws the Soul from all other Parts of the Body, with all the Loving and Amorous Passions, to sit in the Hollow Cavern of the Ear, as in a Vaulted Room, where it Listens with Delight, and is Ravished with Admiration." She died of the Antwerp plague in 1678. The Sinfonia we perform tonight, one of seven written by Duarte for five viols, is all that has survived of her music in written form.
Georg Phillip Telemann (1681-1767) - Concerto for Two Flutes, TWV 53:D1
Beloved among listeners and performers alike, Georg Philipp Telemann was one of the most prolific composers of any era and his music was celebrated even in his own time. Although he began studying law at university he could not abandon an early love of music and ultimately developed a successful career as a music director, composer, teacher and publisher. Perhaps because he was mostly self-taught, Telemann had an affinity for music students and adult amateurs so his music collections often feature pedagogical elements to help students build technique and master style and expression. He composed in most genres, was influenced by all national styles and incorporated progressive techniques making him an important link to the Rococo and Classic eras. Telemann's music for flute includes 12 Fantasias for solo flute, a set of duo sonatas dedicated to amateurs, canonic sonatas for two flutes or violin, The Methodical Sonatas which feature slow movements with both a plain and fully embellished solo line, a French suite for flute and strings, and numerous concerti for flute solo or with other, sometimes unusual combinations of instruments. Written in the flute-friendly key of D major, this concerto is cast in four concise movements (slow-fast-slow-fast) with rather conservative material, key scheme and form. The balanced flute parts play nearly identical passagework or are often in thirds, which allow the moments of imitation to shine. The bassoon compliments the flutes while mostly doubling the bass. The first movement marked Largo in 3/2 is simple but stately. In the following Vitement the ripieno sections have a bouncy energy emphasizing chord tones that lend a nautical feel to this joyous movement. The contrasting solo sections showcase mostly rising, running lines. The next Largo movement in common time provides a lovely contrast as it moves from B minor through four other keys and back again. Here the sighing flutes are in imitation and have a few poignant dissonances while the bassoon provides lilting motion to foil the elegant flute lines. The concluding Vivace in 3/8 is Scottish in flavor with its snappy rhythms and tumbling thirds. A distinctive pastorale section featuring a drone and pipers in imitation precedes the final tutti. (Alice Lenaghan)
--Notes by Lisa Marie Lawson, Alice Lenaghan, and David Wells
Sacramento Baroque Soloists thank the following donors to the 2021-22 Season:
Esterhazy
($500-999)
Fantastic Fund
of the Sacramento Regional Community Foundation
Margaret and Al Geelhaar 
AJ Watson
La Poupliniere
($249-499)
Mary K Davis
Linda & David Gordon
Stuart & Vana Lott
Jim & Patricia Moses
Lynn Sellmann
Bill Senecal
Brandenburg
(up to $249)
Dennis Cook and Susan Lamb Cook
Steven Coughran
Beth Daugherty
Michael Dazey & Linda Carter
Fred Deneke & Jim Eastman
Kelly Dodge
Elisabeth Dubin
Susan Erlich
Mary Gustafson
Ashley Hill
Olivia Huff
Carolee D Johnstone
Kathryn Karrer
Susan Katt
Linda Koochoo
in memory of Carolyn Booker 
Ginger Mack
Doug MacPherson
 in honor of Goli Sahba MD 
Heidi McLean
Paul Mercurio
Robert Miller
Bonnie Mintun
Gordon Moore
Molly Penberth
Kathy Perez
Linda Phillips
Jonathan Porteus 
Mark & Daria Stoner
Robert and Meesook Wissmath
Ondine Young
Sacramento Baroque Soloists thanks our dedicated volunteers 2021-22:
Board of Directors: Nancy Finch, President
Michael Lawson, Vice President and Treasurer
James Moses, Secretary
Denise Maclachlan
Dan Sackheim

Graphics: Scott Olling

Concert Managers: Bill Senecal (St. Paul's)
Concessions Manager: Anndrija Long
 
Concert Volunteers:
Jerri Brinsfield
Michelle Cordova
Kathy Davis
Peggy Geelhaar
Anna Illes
Richard Kennedy
Sharon Kennedy
Jay King
Liam Lawson
Stuart and Vana Lott
Doug Macpherson
Doug Mattes
Patricia Altschul Moses
Goli Sahba
Bobby Schaulis
Rachel Scott-Joseph
 
Many thanks to St. Paul's Episcopal Church
and to the Harris Center Foundation for their ongoing support
         The Harris Center for the Arts is pleased to announce the return of live performances!
In response to the global COVID-19 pandemic, the Harris Center was temporarily closed to ensure the health and safety of our patrons, performers, volunteers, faculty, staff, and students. Even while closed, support from our donors, members, and community never wavered. Because of this generosity, the Harris Center and the Los Rios Colleges Foundation are pleased to partner with our local community-based organizations and help sponsor their return to live performances at the Center as part of the soft reopening this fall. All nonprofits participating will have the opportunity to receive a financial sponsorship from the Harris Center to help offset the costs associated with rental fees and other operating expenses. These funds will ensure the return of some of our community arts organizations to the stage, and allow them to provide the professional, entertaining, and heartwarming performances the Harris Center has become known for over the past 10 years.