"

Michael and Lisa Lawson performed "Music Journey" for our Amador Learning Center. It was an outstanding experience for our students and really helped to connect period music with different historical eras. Our students were enchanted! What a great way to bring history alive."
— Nonnie Muehlenhaupt, California Credentialed teacher (retired)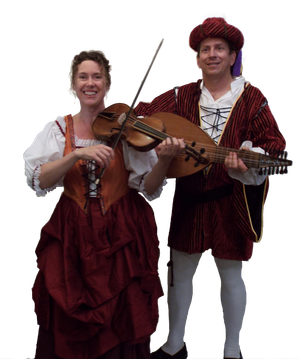 Music Journey
is an exciting presentation of music history that uses music, short scenes and audience participation to engage the listeners to learn about how music has changed through the ages from medieval Europe until today.
Michael Lawson came up with the idea of
Music Journey
when he realized how people think of all of the music from history as classical music, and even music from the recent past can be obscure. With the use of different costumes, interaction between the performers, and brief historical descriptions,
Music Journey
makes each historical period memorable and teaches key ideas to illustrate a clear picture of how music and has evolved over time.
As classical music performers, we wanted to create a music performance that can bridge the gap between seasoned concert goers and younger school aged audiences. Music from long ago surely carried its own excitement, but over time we become accustomed to the sounds of the past and associate the music with certain ideas and images. We strive to make the music new again by adding colorful costumes representing different historical eras and making each scene interesting or even funny with various props and lively movements on stage.
The violin and the cello play an important part of the presentation of music journey. These instruments occupy an important part of music history . Violin family instruments have been used in western music since the late 1500s until today and have been the backbone of instrumental music with their flexible musical abilities. We composed the introduction and finale music for
Music Journey
for our instruments and enjoy using the violin and cello for all styles of music. The final piece of music in the show begins with the mixing and colliding of two musical styles, a blues melody representing the African American field cry and an Irish folk song. The violin and cello go on to play a medley of the melodies from all the music in the show and integrate with the opening music to form a collage of music representing how new forms of music are continually formed through culture and art.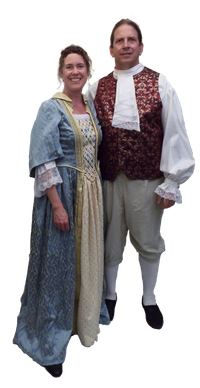 Music Journey
has a segue into our music group Sacramento Baroque Soloists which we founded over 20 years ago. Sacramento Baroque Soloists is a Baroque group that focuses on the performance of baroque music from 1600 to 1750. The group uses musicians trained in period style performance and the players play on antique instruments from the 17th and 18th century or copies of instruments from that time. The mission for Sacramento Baroque Soloists is to play concerts of baroque music and create awareness and understanding of baroque music in the greater Sacramento area.
Music Journey
puts the Baroque period into the broader context of music as it evolved.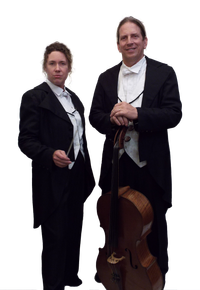 Music Journey
is a 50 minute school assembly show designed for K through 8 children. The show takes the audience through history with engaging examples of music, colorful costumes and entertaining skits that teach important turning points in music through time. Children will hear virtuosic passages of music on the violin and cello, beautiful songs and rocking melodies from Michael and Lisa Lawson, the show's creators.
Michael and Lisa Lawson created the
Music Journey
show after many years teaching private music lessons, classroom music instruction, and historically informed concerts with their group Sacramento Baroque Soloists. They use their musicanship on the violin and cello, along with a colorful stage backdrop, exciting synthesised orchestra and period costumes to create a unique and effective world of music scenes from the Medieval, Rennaissance, Baroque, Classical and Romantic periods of music. The show culminates in "Coming to America", a collage of music recapitulation that summarizes the different pieces from the show into one exciting medley.
At the end of
Music Journey
questions from the young audience are answered.
Length: 45 min.
Number of Students: 75-200 (full assembly)
Grade Levels: K-8
Facilities required: Auditorium or Multipurpose room
Teacher Orientation: Introductory materials sent in advance

Music Journey Outline

I. Time Period: Medieval 500 A.D.
Music: "Victimae Paschale Laudes"
A monastery near Rome. A monk sings Gregorian Chant while another monk copies an early music manuscript.

II. Introduction
An upbeat original composition by Lisa Lawson which introduces the violin and the cello to the audience, accompanied by synthesizer and rock beat.

III. Time Period: Renaissance 1535
Music: A Renaissance melody
A marketplace in Europe. Street musicians trade instruments for spice, salt, silk, etc. Pre-selected audience members join their band.

IV. Time Period: Baroque 1735
Music: "Winter" from The Seasons by Vivaldi
La Scola del Pieta, Venice, Italy. Maestro Vivaldi teaches his class (the audience) to listen for descriptive sounds of winter.

V. Time Period: Classical 1785
Music: Aria from The Marriage of Figaro by Mozart
Vienna, Austria. The audience attends an opera in which Figaro and Susanna sing about their upcoming wedding. Susanna tries to get Figaro to look at her hat but he is too busy measuring.

VI. Time Period: Romantic 1830
Music: Cello Concerto in A minor by Saint-Saens, Symphony No. 5, 1st Mov., by Beethoven
Paris, France. The audience attends a concert. A cellist plays a concerto, and a humorous conductor leads an orchestra supplemented by giant cutout "musicians".

VII. Time Period: Coming to America 1900
Music: "The Irish Washerwoman," traditional Irish, early blues melody United States.
An Irish immigrant and an African American woman's melodies blend to lead directly into the finale.

VIII. Finale
Michael Lawson's original composition, a dynamic violin and cello duet incorporating elements of all of the preceding selections.