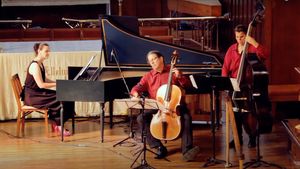 October 28-30: "Voice of the Cello"
Friday, October 28, 7:30 pm St Paul's Episcopal Church
Saturday, October 29, 7:30 pm Harris Center
Sunday, October 30, 2 pm Harris Center
Dark, rich, and sonorous, and also bright, sweet, and expressive, the cello is the most versatile of instruments. In this perennial favorite concert, Sacramento Baroque Soloists' cellist Michael Lawson, along with bassist Kristin Zoernig and bassoonist David Wells, performs a selection of Baroque Cello and Bassoon Sonatas, accompanied by Ryan Enright providing continuo harpsichord and organ.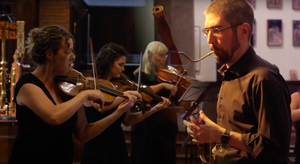 February 24-26: "The Concerto Resplendent"
Friday, February 24, 7:30 pm St. Paul's Episcopal Church
Saturday, February 25, 7:30 pm Harris Center
Sunday, February 26, 2 pm Harris Center
Sacramento Baroque Soloists explore the splendor and beauty of the Baroque era in this musical feast of concertos featuring flute, violin, harpsichord, bassoon and cello.
The Soloists conclude their 21st season with this performance of a vibrant set of concertos featuring their own soloists: Cathie Apple, flute, David Wells, bassoon, Lisa Marie Lawson and Laura Jeannin, violins, Michael Lawson, cello, and Faythe Vollrath, harpsichord. Works of Vivaldi, Bach, Handel, Telemann, and other favorites.
Please join our mailing list to be kept informed of future concerts
Sacramento Baroque Soloists will follow all state and local guidelines in producing our concerts, to keep our patrons and our musicians safe.