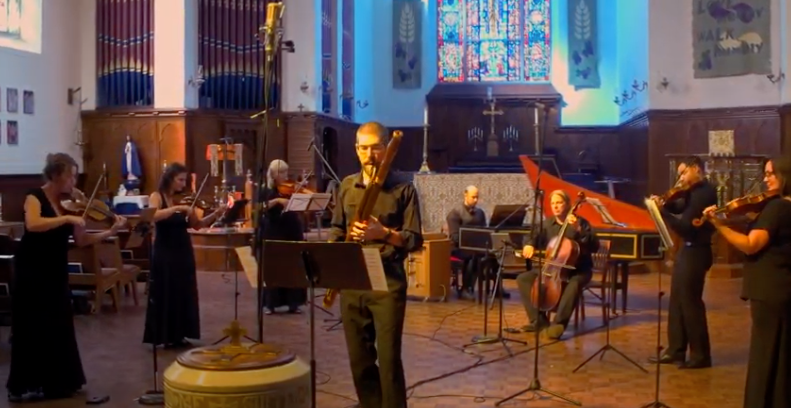 October 1-3: "Concerto's Return"
Friday, October 1, 7:30 pm St Paul's Episcopal Church
Saturday, October 2, 7:30 pm Harris Center
Sunday, October 3, 2 pm Harris Center
Sacramento Baroque Soloists celebrate the opening of their 20th concert season by returning to in person concerts at St. Pauls and Harris Center, performing a collection of Baroque concertos featuring our premier soloists performing concertos by Telemann, Vivaldi, Corelli, Reichenauer and Bach.
PURCHASE unlimited access to the recorded live stream of
Sacramento Baroque Soloists' October 1, 2021 concert at St. Paul's Episcopal Church
December 4 & 5: "Christmas Carols by Candlelight"
Saturday, December 4, 7:30 pm Harris Center
Sunday, December 5, 2 pm Harris Center
Sacramento Baroque Soloists bring you the spirit of Christmas as it may have been felt long ago in this musical feast of carols. This lively ensemble performs old tunes arranged anew, in the improvisatory spirit of the Baroque era, along with a few contemporary Celtic pieces and songs well suited to their Baroque instruments.
SOLD OUT
Please join our mailing list to be kept informed of future concerts
Sacramento Baroque Soloists will follow all state and local guidelines in producing our concerts, to keep our patrons and our musicians safe. Due to the changing nature of our times, we will offer tickets for sale on our website one month prior to each concert set. Purchased tickets will be fully refundable up to the night of the concert.
From The Harris Center:
The Harris Center for the Arts is pleased to announce the return of live performances!
In response to the global COVID-19 pandemic, the Harris Center was temporarily closed to ensure the health and safety of our patrons, performers, volunteers, faculty, staff, and students. Even while closed, support from our donors, members, and community never wavered. Because of this generosity, the Harris Center and the Los Rios Colleges Foundation are pleased to partner with our local community-based organizations and help sponsor their return to live performances at the Center as part of the soft reopening this fall. All nonprofits participating will have the opportunity to receive a financial sponsorship from the Harris Center to help offset the costs associated with rental fees and other operating expenses. These funds will ensure the return of some of our community arts organizations to the stage, and allow them to provide the professional, entertaining, and heartwarming performances the Harris Center has become known for over the past 10 years.